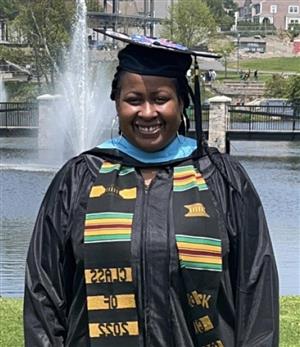 Caja Johnson
"I truly believe in the history, impact, and success of METCO, Inc. I received my Associates degree in Drug, Alcohol, and Rehabilitation from North Shore Community College '14. I, then attended Lesley University '16 and graduated with a Bachelor's degree in Psychology. Most recently I completed my Master's degree in Education as well as my Social Justice Certificate at Endicott College '21. I am fortunate enough to be working my dream job, with an incredible team. I enjoy working with students, supporting families, and DEI work."

Caja Johnson, M. Ed

781-639-3100 x 20202 (office)
617-606-1410 (cell)
johnson.caja@marbleheadschools.org

Pronouns: she, her, hers
Patrice Clough (MHS)

"I have taught English and Debate here in Marblehead since 1987. I was the first Lead English Teacher when LTs replaced Curriculum Directors. I retired in 2015 and still wanted to be around teaching and teen-agers so I replaced the out-going METCO tutor when she retired in 2015. I love my job. I love being here."
Da'Quan Abernathy (Village)

Paraprofessional

Having an impact on the young kids and growing adults is the best thing one can offer to this world. I believe in being a mentor for all, knowing that they will benefit from it. Not too long ago I graduated from the College of St. Joseph where I played collegiate basketball and mentored the youth. I recently came back from overseas (Ireland) where I continued the path of impacting their youth by mentoring and coaching them, as well as playing professional basketball. METCO has opened my eyes more on how much more I can offer to youth today!
Robert Grant (MVMS)

"Since 1987 I have taught in Vermont (K-12 in one building!), The Jeremiah Burke in Dorchester, Brookline High School, Kahiga Secondary school in Kenya, the Schottengymnasium in Vienna, and now Veterans' Middle school in Marblehead. Tutoring the METCO students at Veterans got me back in school, with students, and teaching. I still like all three. It also matched my values around educational equity, opportunity, and inclusion. Every teacher here has welcomed me into their classrooms to observe and I have had the chance to watch some wonderful teaching. Lucky me."